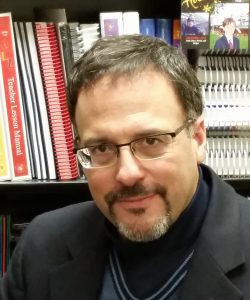 His original plays and adaptations have been performed in New York, Atlanta, Los Angeles, and Miami, selections from which have been published in Smith & Kraus' Best Stage Monologues and Best Stage Scenes anthologies for 1993, 1997, and 1998. He has served as the Artistic Director of New York's Common Ground Stage and Film Company and as Literary Manager at Atlanta's 7Stages Theatre. He has also been a guest speaker at the International Symposium on Theatre Semiotics, in Athens, Greece.
He is available to speak on the Common Core, virtual education, and supplemental education, and dramaturgy. Please use the contact page to make a request.
He blogs at Scenes From a Broken Hand.